Sensotrend Uploader
Sensotrend uploader is an application that helps your computer talk with your devices and transfer all the data from the device to your healthcare provider.
When no cloud connection is available, an app that reads the data from the device on demand is the next best thing.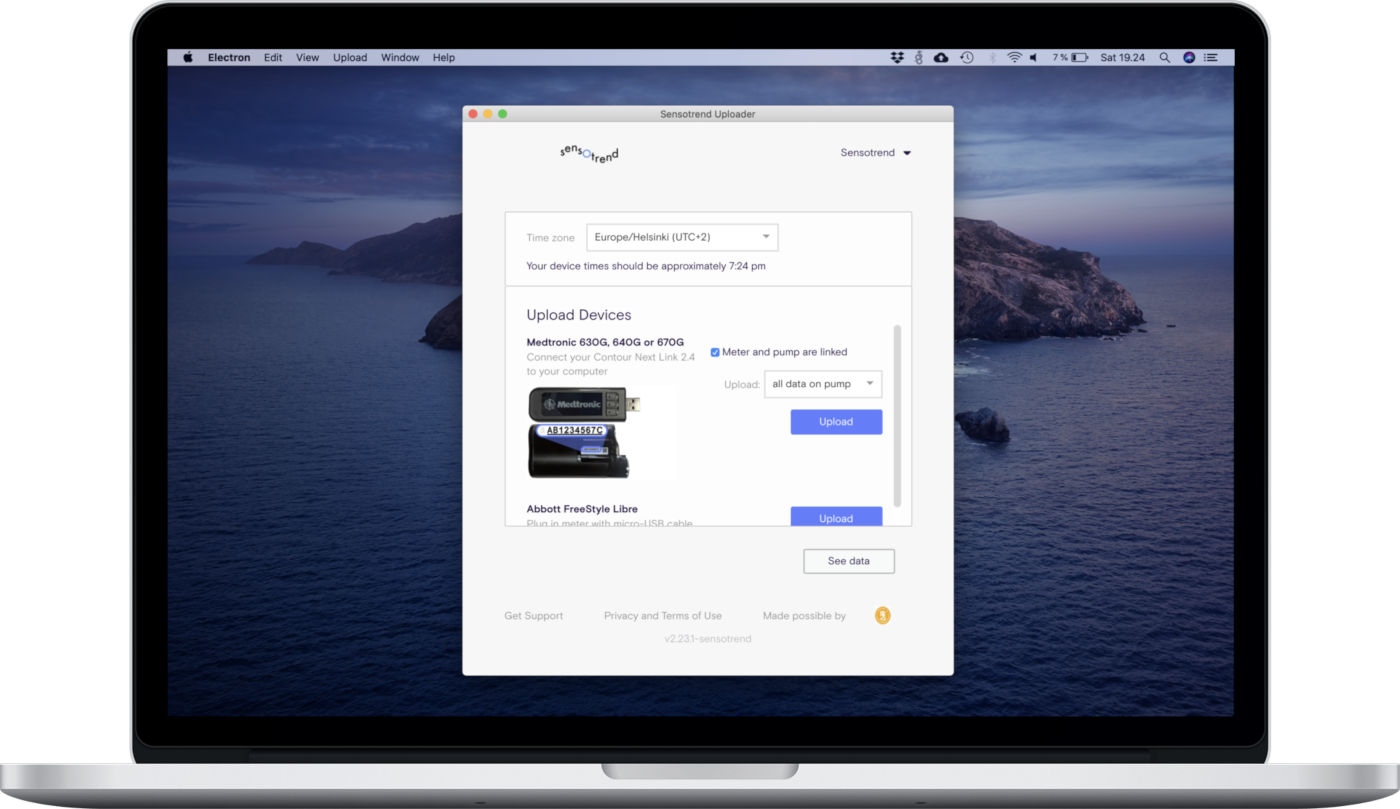 Having to install and update applications comes with its hassles. What's even less convenient is that this kind of tools require manual effort from human beings. We are all for automation, but not all devices are yet connected enough, and this is what we need to do with them.
Based on Open Source
The Sensotrend Uploader is based on the open source universal uploader from Tidepool, brought to European market as a CE marked medical device by Sensotrend. We are really standing on shoulders of giants here. While Tidepool is not a big company, the importance of the things they are building for people living with type 1 diabetes is huge.
We're aiming on paying it forward, too, by implementing support for more devices, and getting that support included into Tidepool's master version.
Supported operating systems
Sensotrend Uploader can be installed on recent versions of Windows, OSX, and Linux operating systems.
Supported devices
Glucometers
Abbott Freestyle Freedom Lite
Abbott Freestyle Lite
Abbott Precision Xtra
Accu-Chek Aviva Connect
Accu-Chek Guide
Accu-Chek Guide Me
Ascensia (Bayer) Contour Next
Ascensia (Bayer) Contour Next Link
Ascensia (Bayer) Contour Next Link 2.4
Ascensia (Bayer) Contour Next One
Ascensia (Bayer) Contour Next USB
Ascensia (Bayer) Contour USB
CareSens Dual BLE *
CareSens N Premier BLE *
OneTouch Ultra 2
OneTouch UltraMini
OneTouch Verio
OneTouch Verio Flex
OneTouch Verio IQ
Continuous Glucose Monitors
Abbott Freestyle Libre
Abbott Freestyle Libre Pro
Dexcom G4
Dexcom G5
Dexcom G6
Medtronic Guardian
Medtronic Enlite
Insulin Pumps
Animas Ping
Animas Vibe
Insulet Omnipod
Insulet Omnipod DASH
Medtronic 523
Medtronic 530G
Medtronic 554
Medtronic 640G
Medtronic 670G
Medtronic 723
Medtronic 754
Tandem t:flex
Tandem t:slim
Tandem t:slim G4
Tandem t:slim X2
*

Only available on Mac
The list is constantly growing. Tidepool keeps adding device support with a good pace, and we aim to contribute too. If there's a specific device you'd like to see supported, get in touch! How about sending an email to info@sensotrend.com?
Get in touch!
If you're interested in giving people with diabetes a way to upload their data to your clinic, we're happy to help make that happen! Please contact us by email to info@sensotrend.com.